New to Apple Device Management? A Brief Intro for MSPs
If you're a managed service provider (MSP) that comes from a Windows-heavy background, you may feel unsure about answering macOS, iPadOS or iOS related questions on the fly.
But it doesn't have to be this way. As Apple's market share continues to grow in businesses of all sizes, it may be time for your team to level up its Apple device support knowledge. Here's a brief intro to Apple device management for MSPs.
---
Apple Devices Are Built for Remote Configuration and Mobile Management
MSPs with little to no experience dealing with Apple devices should first know that Apple makes it incredibly easy to set up devices in a variety of ways using MDM configuration profiles.
These profiles contain device settings, custom app settings, user account information, and credentials that can be loaded onto any Apple device. MSPs can create MDM configuration profiles using a mobile device management (MDM) solution, Apple Configurator, or from scratch.
In addition, Apple device management programs like Apple Business Manager and Apple School Manager allow Apple device administrators to remotely enroll new devices into an inventory through Automated Device Enrollment, and deploy shared software purchased through the App Store, via Apps and Books.
Finally, Apple devices have a built-in framework that supports many day-to-day MDM functions that MSPs need to support their clients:
Enforcing device encryption, security, and compliance
Configure user accounts and password requirements
Enabling diagnostics and usage reporting
Controlling remote management settings
Remotely administer patches and install software/updates
Currently, Addigy is the only Apple device management solution that supports all of these functions in a remote multi-tenant environment.
Apple Devices are Designed with Security in Mind
Security has always been a core strength of Apple devices. Let's explore some key security features that Apple MSPs can access to protect clients' devices.
Encryption and Data Protection
Enabled encryption is the default for macOS, iPadOS, and iOS devices. All macOS devices released after 2018 now come with an Apple T2 Security Chip, designed to make it more difficult for malware and viruses to cause harm and for hackers to boot up devices remotely.
The T2 chip also automatically encrypts drives whether Apple's native FileVault encryption program is activated or not, but it's often recommended to keep FileVault on. Apple MSPs can take advantage of enabling FileVault and escrowing the keys with a mobile device management solution for safe keeping. This will help end-users securely re-access their device if a user credential was accidently forgotten.
Limit Remote Access with AirDrop Controls
Perhaps you have teens at home who've shared stories of using AirDrop to share gifs and memes on the school bus. This simply isn't a secure way to operate in a professional or educational environment.
MSPs have a long list of abilities accessible through MDM to help limit the remote access permissions on AirDrop to make sure that the Apple devices in client environments remain in line with each company's guidelines for security and privacy.
Apple's Managed Lost Mode and Remote Wipe
Apple MSPs can leverage mobile device management features, Managed Lost Mode and Remote Wipe to protect company data when a device is missing or stolen. Managed Lost Mode remotely locks the device and show last known device location. With Remote Wipe, MSPs have the ability to erase the device to prevent access to sensitive data.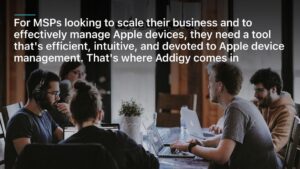 Manage Apple Devices with Confidence through Addigy
While Apple offers a wealth of tools and functions for Apple device management, which allow for a secure and efficient end-user device experience, MSPs continue to be challenged to manage systems across their customer base in an efficient and multi-tenant method.
For MSPs looking to scale their business and to effectively manage Apple devices, they need a tool that's efficient, intuitive, and devoted to Apple device management. That's where Addigy comes in. Within the current state of available solutions, Addigy is the only solution that allows the MSP to configure, manage and deliver a quality of service aligned to their existing offerings.
Addigy's multi-tenant platform allows MSPs to manage hundreds of Apple devices across different environments. Whether it's enforcing device settings or applying security policies for multiple devices at once, our single-pane-of-glass view allows MSPs to work efficiently and proactively.
Addigy also provides built-in remote access features that build on Apple's native remote management tools. The GoLive environment provides MSPs with real-time device summaries, and Live Desktop enables Service Providers to work directly inside devices when necessary.
Finally, if your MSP business is mainly used to Windows devices, Addigy has you covered. The Addigy Community gives those who manage Apple devices access to a wide range of pre-packaged applications, scripts, and device facts for simple deployment onto managed devices. Addigy also integrates with industry standard Identity Providers (Okta, Azure Active Directory, Google, etc.) through Addigy Identity so that end users can login to their Apple devices and applications using their Identity Provider credentials.
Apple Device Management Tools Aren't Just for Apple Experts
End users choose Apple devices for their best-in-class functionality and ease of use. Similarly, these characteristics are what make it easy on MSP admins to add value to their business and deliver consistent, high quality customer service.
With Addigy, your team members won't need to struggle to provide security and technical support for macOS, iPadOS, and iOS devices, at a level your customers have come to expect. To see what Addigy is capable of, contact our team for more information or get a personal demo of our product today