A Word from Our CEO: Support Your People

The Addigy team is headquartered in Miami, FL, and we have a satellite office up in Minneapolis, plus remote workers scattered across the country. In part, because we have these two hubs, we pride ourselves on having a BC/DR plan to help employees get to safety in case of a hurricane or snow emergency, but the arrival of COVID-19 has raised a new challenge: how can we support Addigy's people when everyone is working remotely?
As the head of a company that sells cloud-based IT solutions that help the aforementioned, I think a lot about communication and end-user enablement. I'm writing to share the steps we're taking to ensure that our people have the technical and mental health resources they need throughout this global health crisis.
The Addigy Approach: It's Never Too Late to Be Proactive
I lead a team that works to help IT admins provide a great experience to their end users. At Addigy, everyone understands that even if these admins are proactive about software updates and monitoring security risks, there will always be situations that require swift reactions. This has helped instill a commitment to proactivity within our own team, coupled with the healthy understanding that there will always be surprises along the way that require you to pivot.
Although the situation we find ourselves in today is unprecedented, I find comfort in the familiarity, and for me, that's getting back to basics. Two of the main tenets we hold for our mobile device management solution are reflected in our response. I believe that it's never too late to be proactive and do your best to prepare for what's next. With this in mind, we're approaching the current health crisis with two principles:
Be proactive. Have tools to communicate in place long before it's necessary. Let everyone know what the best way to be in touch is and how long it will take for them to get a response. Stay on your toes and be ready to pivot again as the workforce's needs change.
Build flexibility into your business model. I feel strongly that the people I work with and the end users we all serve aren't just the employees of companies – they're people. One of my goals for Addigy is that we rise to meet the challenge of real people's needs with an open mind and a willingness to accommodate.
We're not just working toward a fully operational team environment today. Knowing that the situation is rapidly developing, we're working to proactively prepare for what may come next.
Remote Work Requires Remote Connections
We all know that the basic requirements for working remotely may look like a computer with reliable internet service and permission to access your company's VPN, but this doesn't begin to cover your teams' human needs. Whether my employees are in the office or working from home, I understand that their morale is an essential component of their success. One of the biggest boosters of morale is human connection.
I can't overstate the importance of communicating closely with your team at this time. Those who are used to commuting into an office every day suddenly find themselves far from their colleagues and surrounded by messages about how tenuous the economy is. I believe that there are few things as important in this moment as being in close contact with their coworkers and their organization's leadership, and I take my part in this seriously.
To help provide my people at Addigy with a strong sense of security and connection, I've participated in a video "happy hour," encouraged colleagues to host virtual "stand up" meetings, and look forward to building more community time into my calendar in the weeks ahead. I encourage my teams to send regular email communications or spend five minutes chatting with a colleague through Slack.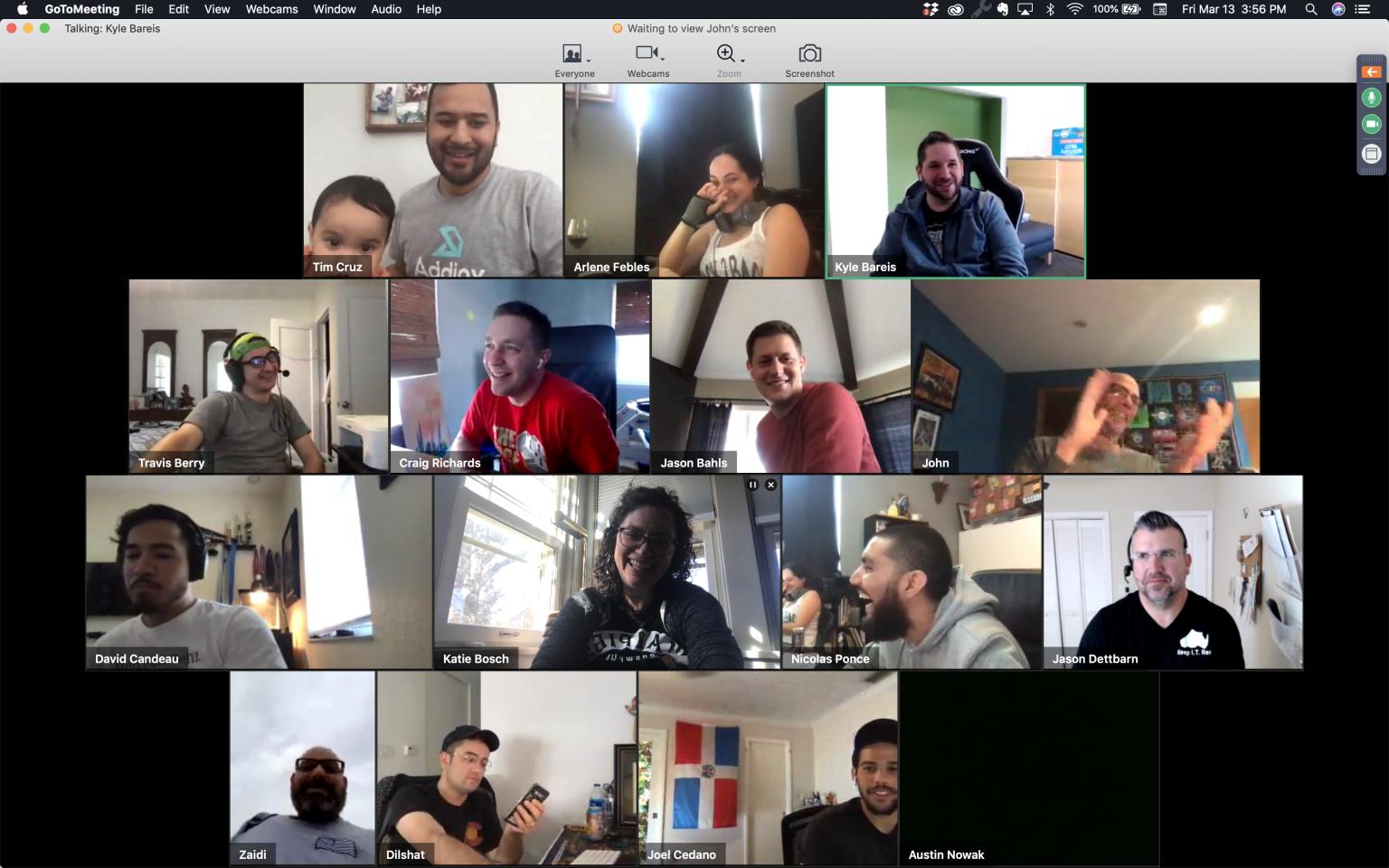 These interactions go a long way toward replicating the passing conversations and laughs we share when we're in the same physical space. Whatever channel works best for your team, use it to communicate regularly with everyone. Let them know you're there.
Flexible Schedules: Beyond PTO
We're proud to offer our employees unlimited PTO, but what we value most is that people have the scheduling flexibility they need to balance their work with their lives. When you're working from home, there's nothing more important than having the flexibility to make time for both.
For example, if you and your partner are both working from home with two young children who are out of school, you may need to log on for a couple of hours in the morning and again after the kids are in bed. What enables this kind of flexible scheduling? Communication. We empower our managers and employees to work together to find a schedule that works for everyone, and we understand that this may mean keeping at nontraditional hours.
We've also worked with our health insurance provider to extend additional mental healthcare benefits to employees to make sure that everyone has the resources they need to cope with these uncertain times. I don't mean to be euphemistic about the challenges that COVID-19 presents – increased anxiety and stress are currently the norm, and we recognize that remote healthcare consultations may be part of the formula to improve employee wellbeing.
The New Normal Is Not Going to Be a 9-to-5
It's worth articulating that the "new normal" will not closely resemble the workday you had when your team commuted into an office. Some days will be harder than others, and some days the news from the outside may feel overwhelming. Providing employees with the space to work through these times means providing them with support that fits their daily needs while they are working remotely.
I encourage all business leaders to take up the challenge of modeling how to foster a digital community culture for our teams from the top down in addition to providing the necessary technology (and IT support) for remote work.
We're lucky to be an industry that's fairly well prepared to transition to remote work, but we recognize that this isn't the case for many folks out there. To help support companies that are looking for a way to remotely manage the Apple devices on their networks, we're providing free 60-day access to the Addigy platform.
We hope our tool will help your IT admins and Apple device users get the secure support they need throughout the weeks to come. If you have any questions, please don't hesitate to reach out to our team of experts. We're here for you.