All New Integrations and More

We are very excited to announce the next piece of our work to improve the Addigy user experience – an all new Integrations page. The Integrations page remains the single place to control and enable Apple Business Manager and Apple School Manager, integrations to 3rd party products, and granting access to applications to use the Addigy API.
As part of ongoing efforts to improve your experience using Addigy, we have worked to make the Integrations page more straight forward to use putting the information you need most close at hand.
Several of the key differences you will notice right away include:
Apple Business Manager and Apple School Manager integrations are front and center.
Addigy integrations are broken out from 3rd party integrations into their own section to make them easier to find. Single Sign-on Providers are broken out into their own section.
Each API Integration you've enabled continue to be at the bottom of the page.
Enabling an API integration and the links to the API Docs have not been moved. They remain at the top of the page. And API Integrations previously created remain at the bottom of the page.
You can also see Addigy Identity in the screen shot. Addigy Identity Okta and Azure is currently in beta and you can join the beta by requesting access via a support ticket.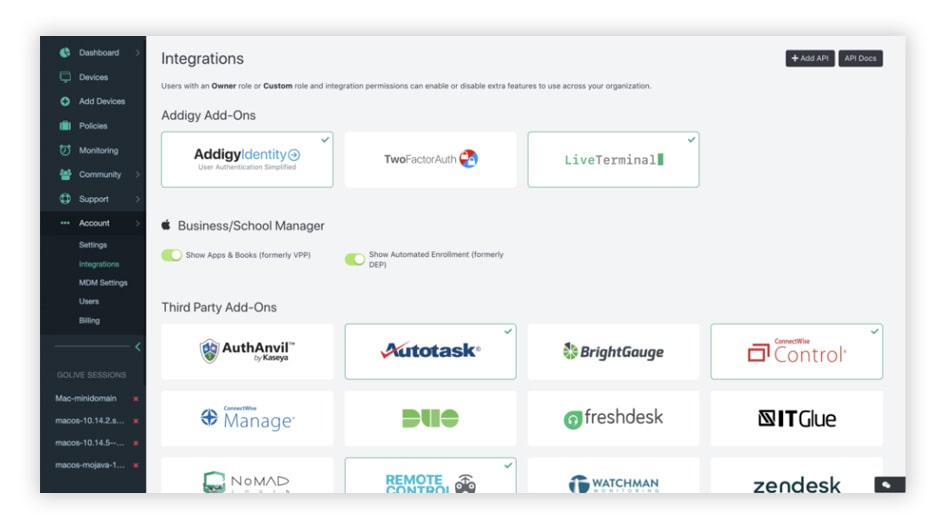 Don't hesitate to let us know what you think. If you have any questions, let us know!