Are Apple Services the Next Big Revenue Opportunity for MSPs?
When most people think about the Apple brand, the iPhone immediately comes to mind, but that's changing. The tech giant, known for its innovative products, has been turning over a new leaf over the past several years — and its strategy seems to be working.
The tech giant's services division is dominating the conversation as of late, and in the coming years, Apple's services business is expected to grow significantly. If the division's momentum continues, Apple-friendly MSPs could be the ones benefitting from this shift, as long as they take advantage of the opportunities presented to them by Apple. 
As more businesses adopt Apple products, Apple-friendly MSPs will be called upon to monitor and manage additional Apple devices and apps. With the right platform in place to configure and manage multiple environments, MSPs can generate more monthly recurring revenue (MRR) while also protecting the end users of their customers.
Apple refocuses its efforts toward services
The tech giant began shifting its focus from generating iPhone sales to selling services in 2017. Its goal then, according to Tim Cook, the company's CEO, was to double its fastest growing business (its services business) by 2020. Since Apple's commitment to aggressively growing its services business in 2017, the tech giant has made significant progress, growing its services business rapidly over the past few years.
For proof, just take a look at the tech giant's fiscal fourth quarter of 2020. Apple's services business generated $14.5 billion in Q4 2020, a year-over-year increase of 16 percent. During the company's 2020 fiscal year, Apple's services business generated $53.8 billion in revenue, up from $46.3 billion in its fiscal 2019. 
The momentum Apple's seeing from its services business isn't expected to letup anytime soon. In fact, the tech giant's services business may become the company's most profitable business within the next four years. Apple's sales from its services business is projected to grow at a rate of about 11 percent a year to $81.5 billion in the tech giant's 2024 fiscal year. 
Seeing that the tech giant is expecting larger returns from its services business in the near future, it would behoove Apple-friendly MSPs to position themselves as the leading experts of Apple's services for businesses.
And if you're not already an Apple-friendly MSP, now's the time to reconsider your managed services offering.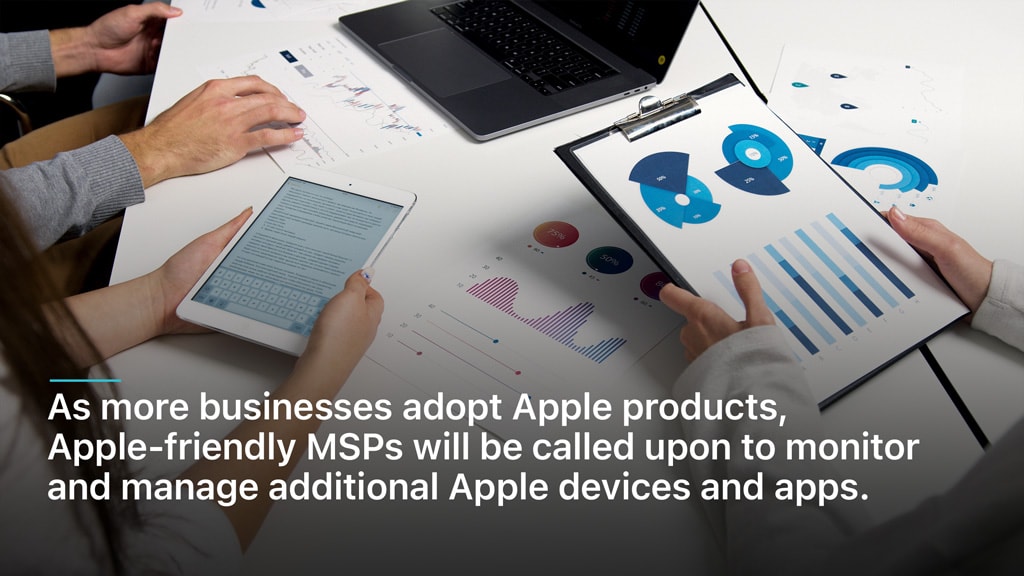 Consider the uptick in Apple device usage
Even though most businesses are still using Windows devices, that doesn't mean things will stay that way for much longer. MSPs can no longer simply only deploy Windows device management when managing endpoints, as their customer bases are changing. 
For example, take Mac adoption. While Microsoft Windows is the most commonly installed operating system (OS) in the U.S., OS X is gaining market share in North America. Additionally, more than 55 percent of businesses now use or permit the use of Macs. Additionally, even though the majority of your customers may not be using Apple devices, some of their C-suite executives may be. 
The demand for Apple device management is increasing. Before you know it, using an Apple device management platform, one with mobile device management (MDM) capabilities that allow for simple device deployments, is going to be key to managing and monitoring customer endpoints.
MSPs unable to adapt to the market's needs by managing Apple devices for customers are leaving money on the table, and with Apple services gaining momentum, that's a shame. Consider using an Apple device management platform to protect your clients from harm and generate operational efficiencies in their environments.
Using an Apple device management platform
When it comes to the devices they own, your customers now have more to worry about than ever before. The majority of people today use work devices for personal use, which creates a significant problem for MSPs monitoring and managing them. 
Instead of only using work apps on company-owned devices, customers are now also using personal apps. Knowing how to navigate Apple's services and how to keep customer networks secure by properly protecting endpoints from potential issues from potential malware is key for Apple-friendly MSPs. 
An Apple device management platform, such as Addigy, enables you to provide IT support to customers who choose Apple devices, and in return, your customers can expect their privacy and security to be protected. 
Not every MSP is set up to provide IT support to Apple users, which is precisely why Apple-friendly MSPs are more in demand today than ever before. With more business executives turning to Apple products, Apple's services are growing. As they do, managing those services and the devices they're on becomes ever more important.