Create a Seamless On-Boarding Experience with Google Single Sign-On

As the catalog of cloud platforms continues to expand every year, the importance of single sign-on (SSO) becomes ever more important. Without SSO, we find users trying to manage multiple passwords and identities across various platforms and with several login options throughout, the possibilities of passwords being compromised along with IT support requests to recover/reset passwords increase. The Addigy team is pleased to announce our SSO integration with one of the world's most successful and utilized identity solutions: Google.
SAML 2.0
At the heart of every SSO experience is strong and secure technology. Security Assertion Markup Language 2.0 (SAML 2.0), is used for exchanging authorization and authentication data between Identity Providers (IdPs) such as Google Suite, and Service Providers (SPs) such as Addigy. SAML 2.0 enables a cross-domain SSO by leveraging an XML-based protocol that uses security tokens and assertions to send information about a user from the IdP to the SP. This process reduces the need for administrators to manage multiple passwords/tokens for a single user. The user can instead leverage their Identity Provider credentials to authenticate across multiple Service Providers.
Single Sign-On
With the introduction of our latest feature, your team will be able to log directly into the Addigy console without having to set up a password! Once configured, your admins can simply click on the Addigy icon from their Identity Provider Apps page and they will be immediately redirected into the Addigy console. No additional steps required—it's that easy.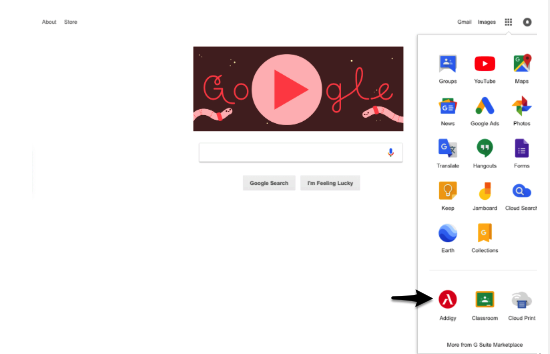 Easy Onboarding with JIT Provisioning
Once admins attempt SSO into Addigy, we first check if that email is already assigned to an organization, and if so, we simply log you into that organization so you can get straight to work. If your account has not yet been created, don't fret, Addigy will recognize that the user account does not exist and it will create it for you, Just-In-Time! You'll spend less time juggling user identities and more time pursuing business objectives. Onboarding has never been more simple!
Identity Lifecycle Management
Addigy's introduction of Google SSO is only the first step in supporting your Identity Lifecycle Management. It is the key to be able to onboard new admins rapidly, keep their login data synced across various platforms, distribute privileges, and deauthorize them just as fast. Onboarding new admins into Addigy has never been this smooth.
Want to learn more? Check out our Knowledge Base Article to get more information on configuring single sign-on for your organization.
Google SSO is just another way Addigy facilitates your Apple device management.