How Integrated Workflows Can Help MSPs to Streamline Their Client Support
All good Managed Service Providers (MSPs) know that there's a huge business opportunity in supporting the growing population of Apple device users in all verticals today. But you may not yet be savvy to the Apple device management tools that can help you integrate workflows to ensure that you're providing excellent, proactive client support.
Even Windows admins who are new to the Apple universe can master integrated workflows with Addigy before they learn popular keystrokes and shortcuts that Mac experts love.
With the help of a cloud-based Apple device management platform with multi-tenant capabilities, your lean team can seamlessly manage all the Apple devices in your client fleets from one centralized location. Here's how Addigy can help your team provide client services more quickly, without the hassle of toggling in and out of multiple platforms to do so.
Apple Device Management Tools to Support Integrated Workflows
Context switching is a known productivity killer. Having multiple platforms to support Apple devices are infamous for busting budget goals. The good news is that you can address both of these issues with one Apple device management solution.
With Addigy, managed service providers can access all the device management tools they need in one place. By centralizing your workflows in a cloud-based solution, you can maximize efficiency and profitability and improve your bottom line by reducing context switching and reliance on other platform solutions in one fell swoop.
By relying on one central Apple device management tool, you can rely on one system of record to help deliver clearer IT documentation to your customers and a better system of record for all activity on client devices. This can help managed service providers improve billing, client support, and measurement of all your KPIs.
The Multi-Tenant Device Management Tool Top IT Managed Service Providers Rely On
Consultants at top IT managed service providers don't lose time toggling between different tools. All the information they need is visible from one screen – this should be true whether your team supports Windows devices, Apple computers, or dozens of blended client environments.
Addigy's Apple device management platform is the only solution on the market today that supports multi-tenancy and is designed to meet the needs of managed service providers. This single-pane-of-glass view into all the Apple devices enrolled within your clients' systems is a huge advantage for managed service providers.
Logging in and out of every tool you need to support your clients doesn't just mean lost time – it means lost trust as your clients wait on the end of the phone line or their ticket grows stale in the queue. Every integrated workflow in place provides an opportunity for your team to level up their support for every client on your roster, and the more clients you can serve with the staff you've already trained and onboarded, the faster you can grow your business.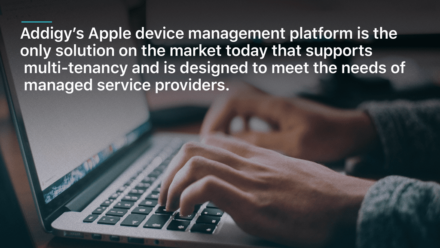 Automate Critical Updates to Provide Proactive Client Support
With Addigy, you can integrate the PSA platform that you use for ticketing and customer communication, which can help you keep your service desk fully in the loop.
You can also use Addigy's remote monitoring management tools to automate alerts that notify your service desk of change to a critical device fact before a service request comes in. This can help you manage patches, push critical OS updates without interrupting operations, and stay ahead of issues that could result in a costly pile-up of service requests.
With a mobile device management solution that's built for multi-tenancy, you can proactively support all the Mac computers in your clients' networks from one single access point. The true magic of this comes in where you can take a custom automation you've scripted for one client and apply the relevant script to other client groups without ever signing in or out of the platform.
Integrated Community-based Solutions for Clients and Consultants
The Addigy Community isn't a separate entity that requires that users leave the platform; it's an embedded feature that provides clients and consultants with the answers they need. There's no need to scroll through long threads of user notes or copy / paste scripts between search engine results and the platform.
Addigy was designed to provide a smooth user experience – whether you're researching how to set up a custom integration or moving to put that integration in place for one of your client accounts, Addigy's cloud-based mobile device management solution offers the right features to maximize technician efficiency, declutter your IT budget, and improve profitability of your operations at every level.
If you'd like to see how this works for yourself, reach out or sign up for a free demo today.