How to Deploy a Custom App Configuration Using Your MDM

Custom app configuration isn't a perk. It's a necessity. Custom app configuration can help you save time, secure your fleet, and ensure that the Mac computer users on your network are operating on machines that meet your company's security objectives.
With the arrival of macOS Catalina, Apple IT admins now have the ability to customize Privacy Preferences Policy Control (PPPC) profiles for each app that requires these permissions. This critical new infrastructure for granting permissions is exciting, but it also adds a step to the custom application deployment process for Apple IT admins.
To deploy custom applications with PPPC requirements at scale without overburdening IT, you need a mobile device management (MDM) solution. Let's dive into how Addigy Smart Software can help you manage custom app configuration and deployment.
How MDM Solutions Streamline Custom App Deployment
Any end user can manually download an app from a website by downloading the DMG or PKG file, but it doesn't make much sense to ask each user to provision their own software. Addigy's MDM solution can prompt these actions or push applications out to individual machines from the catalogue.
Addigy's MDM solution can take those two different file types and deploy them to individual machines or groups of end users. Within the IT admin's portal on Addigy, it's as simple as navigating to the catalogue, selecting "Custom Software" and adding the software you'd like to install from the list of available applications.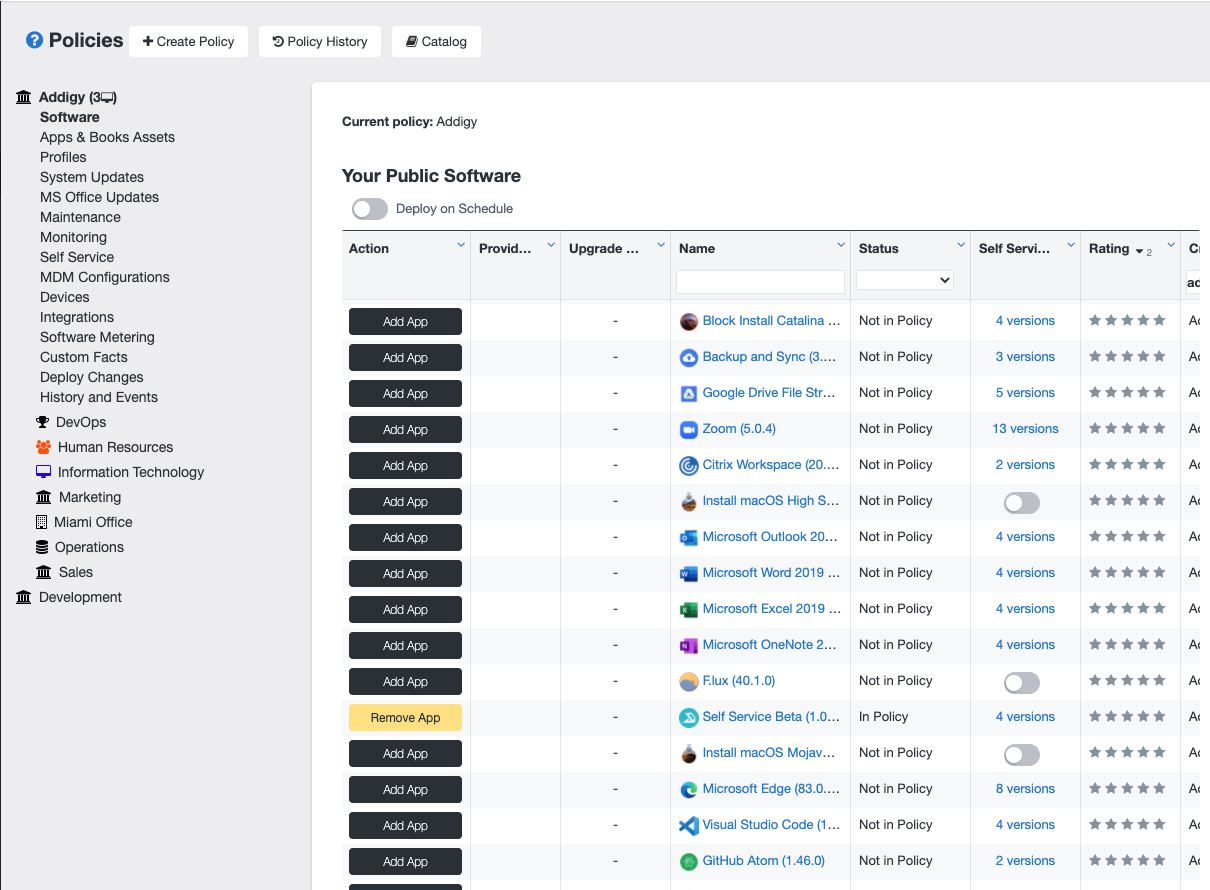 This method allows you to run (or modify) installation scripts in the background and provide critical updates to end users without interrupting their workflow. But that's only the beginning of what an MDM solution can do.
Addigy Smart Software Helps Deploy Custom Applications Securely
In March of this year, we launched a Smart Software feature, which enables IT admins to create the necessary PPPC profiles for each application in a few clicks. This extension of Addigy's custom software deployment is designed to simplify the process of packaging and deploying software to macOS 10.14 and up, as these generations require PPPC permissions to protect user privacy. In an enterprise environment where your IT team is pushing applications out to end users at scale, your team needs a way to deploy applications with the PPPC controls set up within the package.
Addigy's Smart Software now includes these options within each application in your catalogue so that you can set defaults (or custom profiles) to ensure that each team member's applications are packaged with the right security permissions upon installation.
To do this manually for end users or IT admins would be cumbersome. Addigy Smart Software makes it simple in three steps:
The software scans each .PKG for any application that includes PPPC permission sets.
Then, it adds those apps to a dropdown menu and creates PPPC Profiles for each application.
Smart Software prompts IT admins to give applications access to system resources where needed.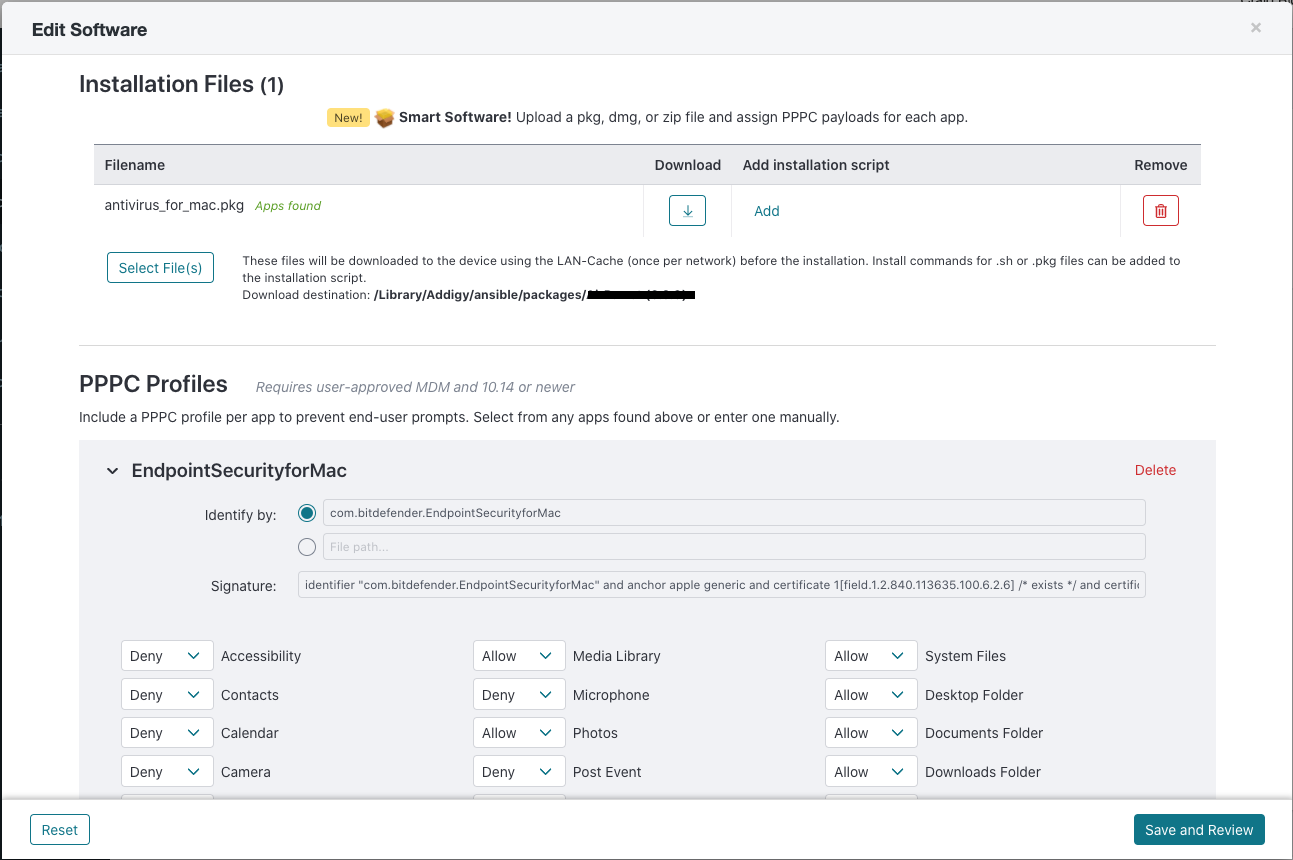 It's important to note that IT admins should only push PPPC permissions on institutionally owned devices. If you have a BYOD program, it is inadvisable to deploy custom device access permissions to employee-owned devices.
The Benefits of Custom Application Deployment
The benefits of having an MDM solution for helping push apps and updates to your managed Apple Devices can save your IT team a huge amount of time on the backend and by ensuring that the applications in your network proactively meet your organization's security standards.
IT admins can push apps to specific devices through the app store using their MDM without repackaging or changing how they are configured. Addigy's internal software catalogue is updated within several days whenever public software or updates come in. This way, the Addigy team is able to take packaging off of clients' hands and speed up the deployment process for new devices.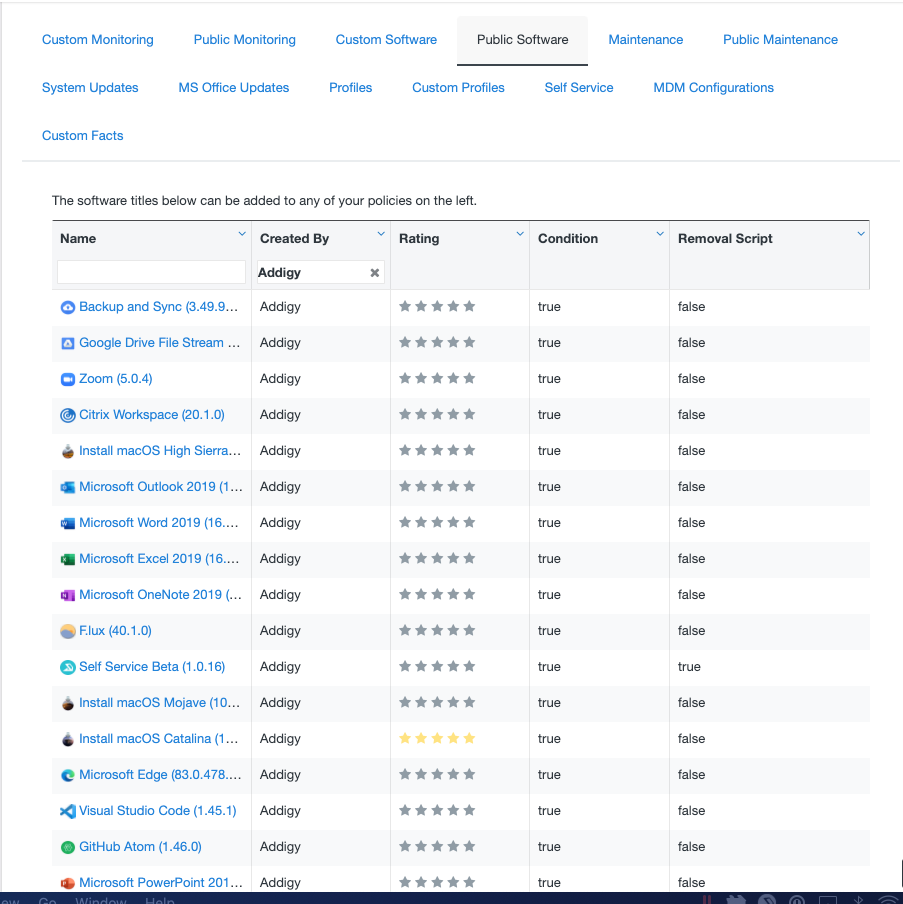 Some organizations that have custom software applications that can't be found on public software platforms or Apps and Books, and custom application deployment tools can be a critical component in their security protocols. These custom applications are often antivirus software or niche applications that you have for specific verticals within your organization.
Custom App Configuration Made Easy with Mobile Device Management
Whether you only have a handful of devices that require custom security applications or hundreds, a mobile device management platform can help you keep the Apple devices on your network secure at scale without needing to expand your IT team.
Addigy Smart Software makes it easy to customize apps for deployment right in your MDM platform interface. If you're looking for single-pane-of-glass management that's adding features to help meet new and emerging needs, this is a great example of how Addigy can help your IT team do their job well.