Introducing Community Feedback
We are excited to announce we have created a new way for Addigy partners to share their ideas and suggestions. Now clients can contribute to Addigy's evolution by sharing their input on how to improve our platform via our new Community Feedback forum. 
In the past, when clients would like to request new additions to the platform, they would create a support ticket, and there wasn't a convenient method to track each request or find recommendations provided by other clients. Now, with the launch of Community Feedback, our goal is to give clients a prominent voice to aid in the continuous innovation of our powerful platform. With Community Feedback, clients can view existing feedback from other clients and interact with their suggestions by upvoting, following, and commenting. If you don't see the feedback request you are looking for, simply create a new feedback post, and our team will carefully review your suggestion and publish it to the Community Feedback page for others to contribute to.
How do I find the Community Feedback page?
Click on the Community Feedback link at the top of the Support homepage. You must be signed in to view this content.
How can I look for existing Community Feedback posts?
You will see tiles representing topics for feedback posts on the Community Feedback page. Click on each tile to view all current feedback posts corresponding to that topic. 
You can also use the search bar from any page in Addigy Support and set the search results to Community to search existing feedback posts. If a post corresponds to the feedback you'd like to give, you can upvote it by clicking on Thumbs Up. If you'd like to keep track of a feedback post, you can click on the Follow button to the right of the title.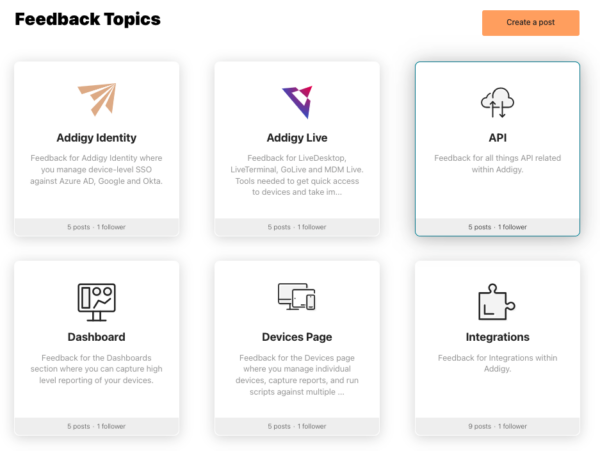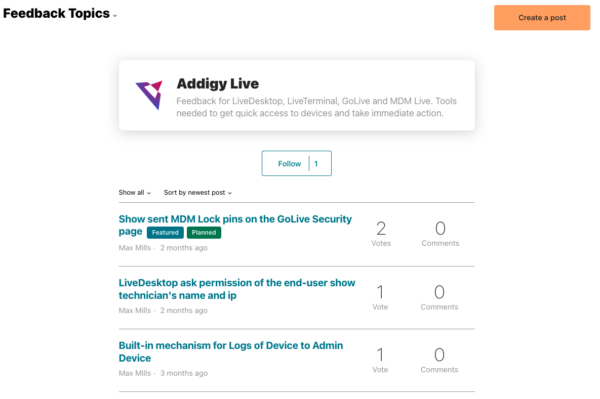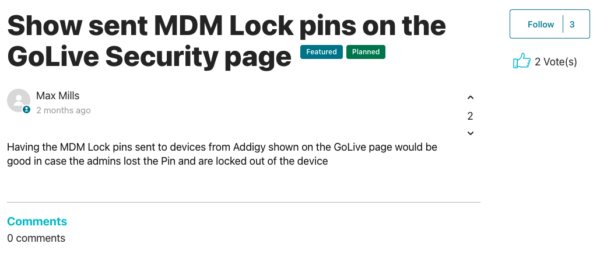 How can I make a new Community Feedback post?
First, make sure you carefully search through existing posts. If you don't find any related feedback, you can create a new post by navigating to the main Community Feedback page and clicking the Create Post button. Here you can create your feedback post for a particular platform topic. Once submitted, one of our Community Moderators will review it before it is public. You will automatically be a follower for any posts you've created.
Note: Before creating new feedback, we highly recommend you review our guidelines for submitting feedback posts to ensure your post is approved as soon as possible.
How do I view the Community Feedback posts I'm following?
Any feedback you've followed, whether posts you've created or posts created by other clients, can be viewed by clicking on your username at the top right-hand corner and then clicking on My Activities from the dropdown. From there, click on Following to view all sections, articles, topics, and posts you are following.
What are the different statuses and what do they mean?
You can track the status of all feedback posts. Below are the various status types assigned:
None: The feedback post has been approved through our moderation process, and no official response has been given.
Pending: The feedback post is still in moderation.
Not Planned: The feedback has not been planned to be implemented inside of Addigy.
Planned: The feedback is planned to be implemented into Addigy.
Completed: The feedback has been implemented inside of Addigy. 
Answered: The feedback has been given an official answer by an Addigy spokesperson and does not fit into any other status types at this time.
Featured: The feedback post will be promoted and appear in the Featured Posts section.