Seeing is Believing: Manage Multi-Tenant KPIs

With Addigy, scaling your Apple IT fleet is a breeze. Bring over all your Apple devices for a seamless experience and simple management across the board with little to no additional setup.
Our platform allows you to set up alerts with automatic remediation and ticketing, deploy an unlimited number of applications, apply security settings such as Filevault and Gatekeeper, enforce the policies with no additional work, and monitor your assets for device information (such as CPU, battery, model/year, disk information, and uptime) just to name a few.
While Addigy does provide dashboards, you may want to modularize and custom-tailor these reports for respective clients; especially, if you find yourself managing multiple organizations (which Addigy strives to excel at)! In this scenario is where you will find power in the Addigy + BrightGauge integration we are proud to announce.
BrightGauge allows you to create custom, powerful, and interactive reports in just a few clicks. Like Addigy, BrightGauge believes in giving its customers immediate value with minimal effort. Once integrated with Addigy,  you can begin to see your Addigy information displayed in real time on the BrightGauge dashboards in under 2 minutes!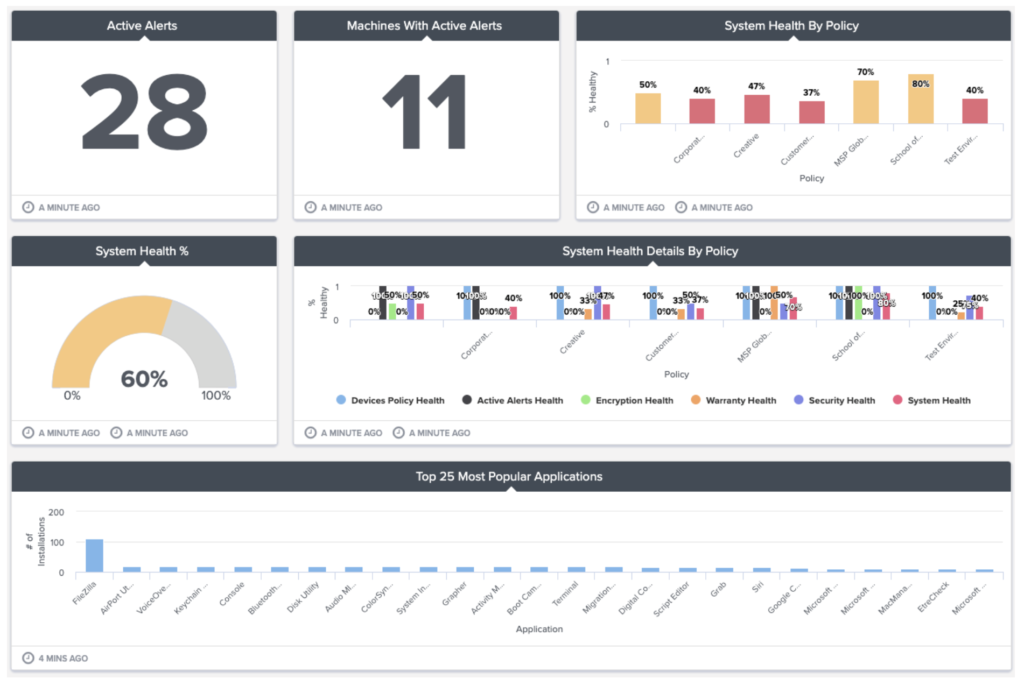 Customizable Reports and Interactive Dashboards
With the combined power of Addigy and BrightGauge, we can begin creating valuable reports/dashboards within seconds. Addigy gives us the ability to monitor all our devices and arrange them into policies. We can then grab that monitoring data and begin creating stand-alone reports for individual policies or for the whole fleet.
With this integration, we can also visualize how secure our policies and environments are by organizing Filevault encryption and Gatekeeper data into engaging charts. You can create a report that shows you all your active alerts while clearly displaying which alerts have already been handled and which are still waiting for your attention. Additionally, you can check to see which are the most popular applications being used and you can break all these reports down to a policy level or across the entire array giving you maximum visibility on your assets. Creating meaningful, valuable reports that show the value of your work has been simplified. You are welcome.
It's virtually effortless to get started–BrightGauge provides you with default gauges immediately upon integrating with Addigy! These gauges can then be further customized to fit your individual organizational needs. The gauges can be dragged and dropped directly into your reports.
For scheduling reports, BrightGauge does a fantastic job of letting you schedule your custom reports for multiple users and for multiple organizations all within their platform. Imagine you are managing ten companies, BrightGauge makes it easy to give each organization a custom trailer report that addresses, clarifies and visualizes everything they would need to know about their current managed devices.