Updates to the MDM Restrictions Profile, Custom Software, and More

The week of December 15th, Addigy will be releasing updates to the MDM Restrictions Profile, Custom Software, and Custom Profiles. This release will also include bug fixes for Private Reports, ScreenConnect, Apple Push Notification Certificates (APNS) and several Device Facts. Below we will cover the two major enhancements, Custom Software and Restrictions. Links to details of the fixes for this release follow below and will be live when this release ships. 
Custom Software
As we continue to update our user interface, different areas of the platform have been evolving. We are happy to announce that Custom Software is the next area to be revamped! The new UI is completely rebuilt in Vue.js and opens the door to a smooth and swift software deployment experience. Other areas of the product, such as GoLive, have already been given this update and with these updates come advancements in performance  and task clarity for our admins.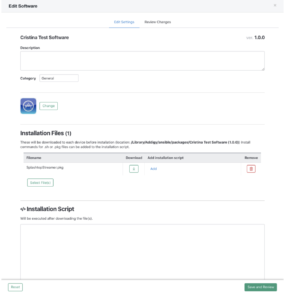 In future releases we will continue to add enhancements to custom software to streamline the way deployment of software that requires PPPC Profiles, Notarization and other security related addons.
MDM Restrictions profile
The Restrictions MDM profile for macOS, iOS, and tvOS is the bread and butter of what can be offered via MDM. We are excited for our customers to get the full value out of MDM and this addition is the next step on that journey, especially those who manage iOS related devices!
In keeping with the spirit of the updated Automated Device Enrollment section, we have made a conscience decision to keep macOS, iOS, and tvOS together in the same Restrictions Profile. Admins look to manage their fleet of Apple devices in a single location often intermingled in the same policy. We want to ensure we offer simplicity for those admins to deploy consistent settings across those devices and within the policy that this profile is deployed too.
Within the Restrictions setup, the settings are broken down by device platform to allow for faster searching and understanding of which device types will be affected by deploying this payload.
Like Custom Software, we are not done with improvements with this feature! In a future release we will be adding searching for third party apps to the Whitelist and Blacklist sections.
For more information on all the updates with this release, please visit here.
Bug Fixes
AM-5374 ScreenConnect Not Launching on Windows 10 Device from GoLive
AM-4106 APNS Certification Expiration Date in Safari display "Invalid Date"
AM-5444 Private Report toggle is not working
Device Fact Fixes following shortly
AM-5575 Correct Device Fact – Locales
AM-5584 Correct Device Fact – Languages