Why MSPs Need Multi-Tenant Capabilities to Scale Profit
One of the first things MSPs ask us about Addigy is, "What makes Addigy so different from the other Apple device management and MDM platforms?" We could go on and on about the pros of Addigy, but what sets us apart the most is our multi-tenancy. 
Addigy provides the same capabilities you've come to expect from an RMM platform but solely for Apple devices, what is now commonly known as an Apple device management platform. You'll also hear the term mobile device management (MDM) used. But however you refer to a platform that helps you remotely manage Macs and iPhones, multi-tenancy is a must for MSPs. 
Why? When you use an Apple device management platform without multi-tenant capabilities, MSPs are forced to constantly log in and out of client accounts. Managing passwords and context-switching between tabs is a major source of lost time and concentration.
With Addigy, your technicians can quickly respond to system alerts or client questions without logging in and out of different Addigy instances. Our platform gives your techs the visibility and access they need to manage devices for all of your clients through a single dashboard.
RMM software with multi-tenancy capabilities can save time and boost your team's efficiency, particularly your technicians, who will be able to better focus and significantly reduce the time it takes to perform even the simplest of tasks. Consequently, Service Level Agreements (SLAs) become easier to meet, helping you to scale services and bring on more customers.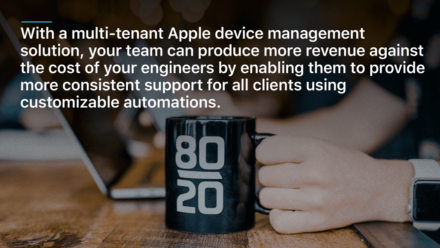 How Multi-Tenant Capabilities Facilitate Scalability
MSPs should take a long-term view toward scalability. It's not enough to merely expand the number of devices or clients served by your business — your MSP must build a system capable of easy expansion and managing new or additional clients whenever necessary, without the need to hire more support staff.
Multi-tenant capabilities deliver a future-proof solution. Addigy's multi-tenant access allows your business to quickly add new clients or devices to your managed services architecture like no other platform.
With the ability to manage multiple Apple devices from one system, your MSP can scale up and expand without constraints.
Increase Revenue With Multi-Tenant Capabilities
Alongside efficiency and scalability, multi-tenant access in a managed services platform empowers MSPs to take control of client security, compliance, and user productivity levels, significantly reducing IT operational costs and enhancing user productivity.
Plus, if you're an MSP offering offsite support to remote workforces, Addigy's multi-tenant capabilities give you the flexibility to quickly onboard and support new users regardless of location.
Produce More Revenue More Consistently with the Help of Automations
With a multi-tenant Apple device management solution, your team can produce more revenue against the cost of your engineers by allowing more consistent support for all clients using customizable automations.
Our real-time MDM solution provides a proactive presence that supports 24/7 background activity (including remote monitoring management) without client attention.
Improve your bottom line by providing your team the ability to push critical updates, monitor security risks, and run custom scripts to provide custom solutions simultaneously for every client. And because Addigy is multi-tenant, you can set something up one time and deploy it across all your clients at once.
Create Consistent Client Experiences

MSPs must create consistent solutions that provide reliable deliveries, simplify timelines, and resolve problems. However, registering for the same accounts, settings, policies, and standards across multiple clients can be a challenge. Our multi-tenant capabilities create consistency and empower MSPs to provide solutions across client accounts from one interface. With Addigy, you can coordinate automated tasks, monitor user-generated activities, and access data from any device in a single location.
Dominate Your Industry

Multi-tenant capabilities are crucial for any MSP striving to stay ahead of the competition. Consolidate your efforts to reduce overhead costs, expand scalability, and automate to provide more consistent services and better end-user experiences.
For example, Addigy allows MSPs to quickly deploy software and updates across multiple devices without logging in and out of each device. You can auto-repair devices with a single command, promptly locate and report on threats, and issue continuing security encryptions. 
Leverage Duplicate Configuration Management
MSPs providing managed services to multiple clients must quickly and easily replicate services across accounts. Multi-tenant capabilities enable MSPs to duplicate configurations by selecting a group of devices and pushing out a single line of code. Our duplicate configuration management feature allows you to create one configuration and replicate the same settings, policies, and profiles across multiple devices with only a few clicks. With this feature, you can deploy settings to a new client in minutes, drastically reducing the onboarding time.
A Best-in-Class Mac Management Platform for Multiple Tenants
Addigy empowers you to manage Apple devices for multiple customers from one platform and expertly deliver excellent customer service. So stop context-switching between platforms — start tapping into the convenience of our comprehensive device management platform and take your customer service and bottom line to the next level. 
See how multi-tenant capabilities can streamline your team's workflow with a free 14-day trial.