Webinar: How to Support the Hybrid Workplace with Increased Demand in Apple Devices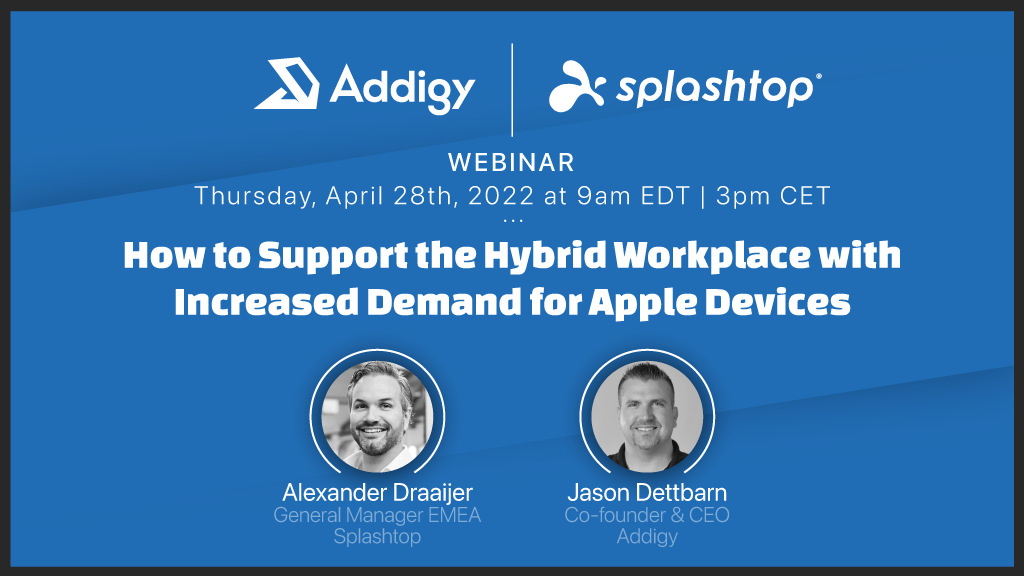 When employees are given the freedom to choose what devices they work from, more choose Apple. In addition, the shift to work-from-home allowed many more Apple devices into workspaces, and their use is more accepted than ever before.
As Macs, iPads, and iPhones become commonplace at work, MSPs and IT teams are realizing that many of the software solutions they currently use do not yet provide the same level of support for Apple as they do for Windows-based devices. Organizations need solutions that are designed for all devices and operating systems to be effective and productive.
With the continued increase of the hybrid work model, having the right tools in place is critical in not only reducing the level of stress on your IT Managers but in ensuring end-users of Apple devices are productive and their devices remain secure.
Looking for the right tools to efficiently support your Apple end users?
We're hosting a joint webinar with Splashtop, our integration partner for remote support, and sharing our best tips on how to simplify IT management while keeping security top of mind. Join us to learn more about:
How Apple's recent announcement of the new Apple MacBook Pro M1 and Mac Studio (M1 Ultra) for Desktop will continue to accelerate the adoption of Apple devices in the workplace
How to build the right IT ecosystem to effectively support an organization with an increased number of Apple devices – including how to minimize an IT admins' time investment when providing remote support
How Apple MDM and remote support tools, like Addigy & Splashtop, can improve the experience and productivity of end users
And most importantly, how IT admins can keep security top of mind when managing Apple devices and what security measures need to be in place for maximum protection against potential threats