Webinar: Identity Management for Macs: Going Beyond Active Directory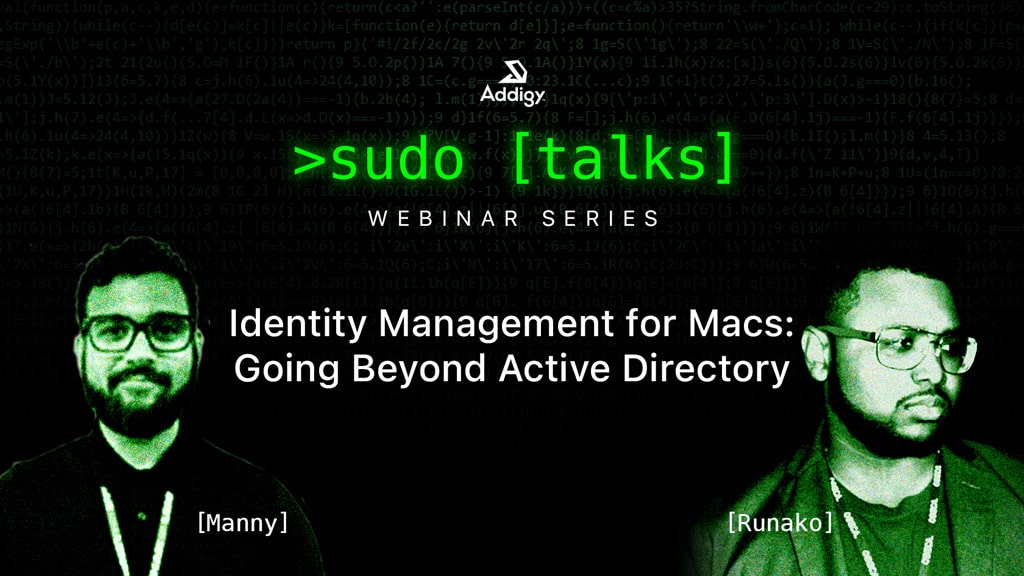 If your end users are sick of managing a billion passwords and you're tired of handling their reset requests and worrying about compromised account access, it's time to give serious thought to identity management for Macs. 
Implementing smart identity management, especially single sign-on (SSO), has the power to transform a business. You'll spend less time supporting password issues and filling security gaps, while your end users will be delighted with "one-click" access to the technology resources they need for work. 
In fact, you can empower your end users to login to their Macs from anywhere — using the same credentials and two-factor authentication that they use for their email! 
You'll also be able to move beyond Microsoft Active Directory. It may be the most commonly used directory service, but it's optimized for Windows-based applications. There's a better way for Macs!
Please join us on Tuesday, May 10th at 3PM Eastern to learn about modern identity management for Macs. Addigy Solutions Architect, Manny Cabrera, and Support Engineer, Runako Carroll, will show you how to harness the power of MDM and Apple to make work easier for yourself and the users you serve.
Part of Addigy's sudo talks Webinar Series
For Mac Admins. By Apple Experts.
Here at Addigy, we eat, sleep, and breathe Apple. Join us for our monthly webinar series where our pros share insights on changes to the Apple ecosystem that impact you as an IT Admin and actions you can take to stay ahead of the curve.
Identity Management for Macs