Everything You Need to Know About Apple's First-Ever Rapid Security Response Update
As cybersecurity becomes more important for businesses around the world, Apple has taken proactive steps to secure its operating systems. In a recently released update, the company issued its first-ever Rapid Security Response feature to address undisclosed vulnerabilities in its macOS, iOS, and iPadOS systems.
With vulnerabilities happening faster than ever — often leaving companies exposed before they can respond — this update marks a crucial leap forward for CISOs, CSOs, CIOs, IT directors, and other IT administrators tasked with ensuring their networks remain secure at all times. As such, we need to understand the threats and how to protect people from being exposed.
With that in mind, here's everything you need to know about Apple's historic Rapid Security Response update, why it was released, and how to implement it across all your devices and networks.
Why Apple's Rapid Security Response Update Is Critical
Classified at the highest level of security, a Rapid Security Response typically addresses an active exploit that exists in your Apple fleet today — allowing you to quickly close the vulnerability. With this proactive approach, you don't have to wait for the next software update to mitigate any risks. Instead, you can ensure a faster-than-usual update, supported by immediate deployment. This deepened commitment to customer security not only protects Apple users from potential attacks but also deters hackers.
While Apple didn't explicitly acknowledge an active threat in its news release accompanying the Rapid Security Response patch and update launch this week, the intended use of Rapid Security Responses suggests that an ongoing and detrimental security issue could be at play.
Managing Rapid Security Response
Rapid Security Releases are specifically designed to be small and able to be applied to Macs and iOS devices quickly while mitigating device user disruptions. While a reboot may still be required, Rapid Security Responses will download and install much more quickly than traditional full OS upgrades.
And, Rapid Security Responses are easily identifiable. A traditional Apple OS version is identified as "13.4.1", a Rapid Security Response would appear as "13.4.1 (a)". Plus, you can quickly push these upgrades to all your devices managed by Addigy.
To give you additional peace of mind, the Rapid Security Response feature includes an option for end-users to 'Remove & Restart' the update in the event it causes any disruptive issues. Additionally, the Apple MDM restriction payload allows IT admins to control whether Rapid Security Response can be installed on the end-user's device or, if it is installed you can allow end users the ability to remove it.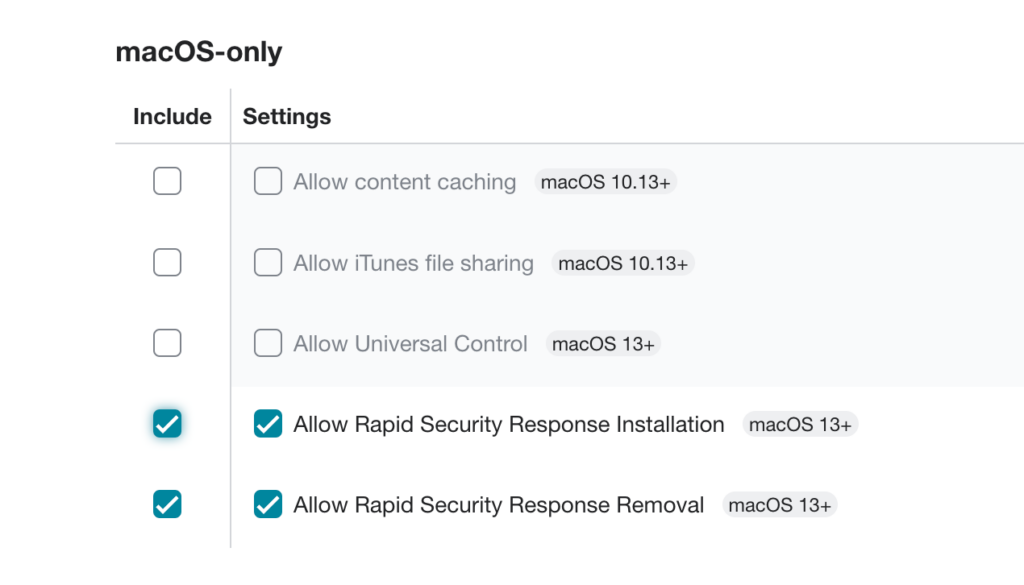 Common Issues Related to Applying Rapid Security Response Updates
Are you having trouble installing the update or protecting your system after installation? Don't worry, Addigy has you covered. Below are common issues related to its installation and protection.
Issue 1: Unable to perform the Rapid Security Response update
This can be due to MDM being unresponsive or a software update process may have run into some sort of issue. In this case, the latest update might not be available for that device. In certain circumstances, devices may need to be restarted, but the Addigy MDM Watchdog Utility will try to proactively rectify these issues to prevent the update from getting stuck.
Issue 2: Unable to see the Rapid Security Response Update
Ensure you have the latest macOS or iOS version to receive the Rapid Security Response update. If you are not on the latest OS, update to the latest, and then the Rapid Security Response update will become available. If you are on the latest OS, and continue to not see the Rapid Security Response update, ensure you have the MDM Watchdog Utility enabled.
With these tips, you should be able to install the Rapid Security Response update across your fleet and keep your ecosystem secured.
Taking Software Updates to the Next Level With Addigy
Addigy has built a new self-healing mechanism that proactively monitors if the MDM services on your device become unresponsive which would block the device from updating appropriately, ensuring Apple's MDM functionality works at all times.
The good news: This auto-remediation mechanism feature is now available in public beta. This new mechanism leverages complex algorithms that work tirelessly in the background to ensure your devices will be protected and responsive when you need them. This means your fleet of devices can be 100% up to date with the latest security from Apple.
There is no other solution on the market that provides this functionality natively to ensure a responsive MDM. This level of reliability and security gives our customers peace of mind, knowing their private information is safe — and without any concerns about their devices not updating.
Experience the full range of Addigy's features with a free 2-week trial
A Smart Step Forward
Apple's historic Rapid Security Response update proves, once again, how seriously the company takes user security. Apple remains committed to providing secure, up-to-date software that offers the best possible protection for user data.
Addigy will continue to keep you informed as we learn more about Apple's Rapid Security Responses. Please refer to our latest Knowledge Base article on Managing Apple Rapid Security Response Updates for more information.
To learn more in depth about how to troubleshoot Apple updates join our next sudo talks. Our team will guide you in identifying devices not being updated properly, uncovering the root cause, and introducing solutions, including Addigy's self-healing mechanism to keep your fleet secure.