Apple Lockdown Mode: What Is It and What Does It Mean for You?
On Wednesday, Apple announced a new feature called 'Lockdown Mode' to mitigate the risk of being attacked by state-sponsored security companies. With this feature, users can toggle off several potential attack vectors, making it more difficult for attackers to get into your device. This feature was created in response to the growing threat these state-sponsored attackers pose for people who work in certain fields such as journalism or activism.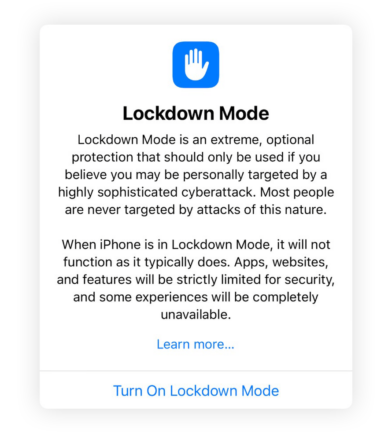 Set to be available on iOS 16, iPadOS 16, and macOS Ventura, Lockdown will provide additional protections over and above existing security features when enabled by the user. Some of the protections Lockdown offers include blocking most message attachments, just-in-time (JIT) JavaScript compilations, invitations and service requests, wired connections, and configuration profiles. These are considered the most common vectors for exploitation by private security companies. 
The feature was created as part of an effort to curtail highly targeted cyber attacks by private companies such as NSO Group. These companies target people who are in positions considered adversarial to their respective governments, such as journalists, human rights defenders, and political dissidents. But Lockdown can also be useful to users who find themselves in similar extreme situations where they feel a heightened risk exists.
For MSPs and enterprise users, this adds an extra option for those seeking greater security in such extreme cases for your organization.
If you're participating in the iOS 16 or iPadOS 16 Betas, you can experiment with Lockdown Mode. On your iOS device, go to Settings -> Privacy and Security -> Lockdown Mode. We expect Apple to introduce an MDM profile to give you more control over Lockdown Mode.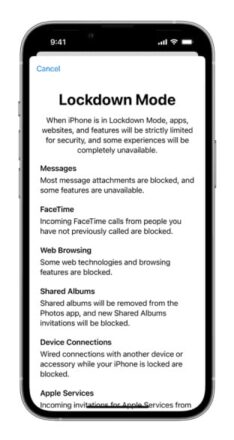 TLDR: You no longer need to carry around your Faraday bags to go off the grid and avoid the CIA!