Managed App Configuration is Here
Addigy is proud to announce the launch of Managed App Configuration for iOS and iPadOS. As of September 5th this new feature will be available for any Addigy admin. This update allows Addigy administrators to deploy any managed app to a iOS or iPadOS device along with any developer supported customization or pre configurations. Popular apps such as Zoom or Grammarly and many more have these abilities built in from their developers.
With these configurations deployed to the applications, end users have a more secure and more streamlined setup with the applications. The deployment can be done automatically to devices via a policy for large groups of devices. Or, the configurations can be deployed per device in GoLive at the time of application deployment or over the top of existing applications on the devices that also exist in your App Store token. This removes the need to open the apps in question per device over and over again to do configurations by hand.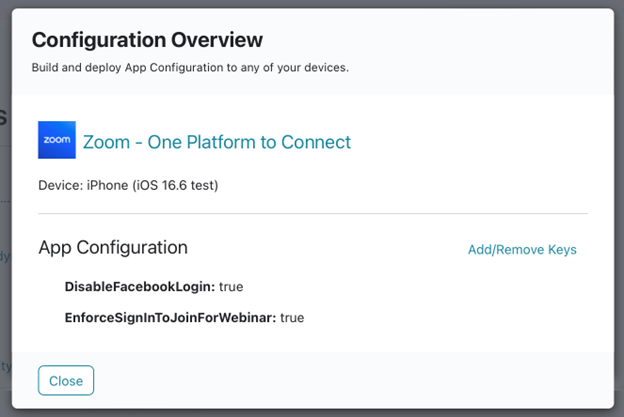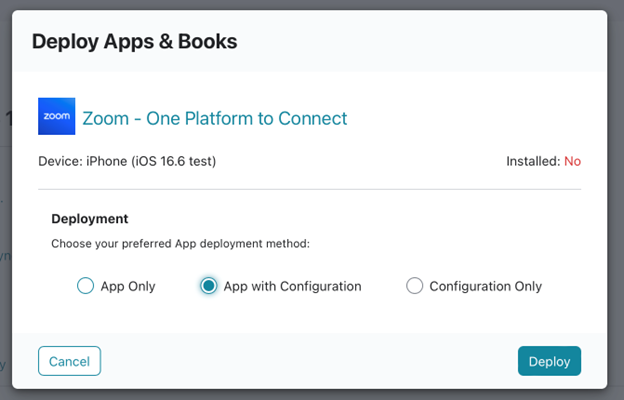 Managed App Configuration is valuable in a number of situations and for a variety of MDM clients, including internal IT and MSPs:
Uniform Configuration: In large organizations or schools, ensuring that all devices have uniform app settings is crucial. For instance, an organization might want all devices connected to a specific internal server. Managed App Config ensures this uniformity.
Security and Compliance: Some apps have features or settings that pose a security risk if misconfigured. Organizations can control these settings centrally to ensure devices adhere to their security posture.
Ease of Deployment: Manually configuring app settings and deploying on a device fleet is tedious. Managed App Config automates this process, ensuring faster and error-free deployments.
User Error Reduction: Users, especially those not technically inclined, might accidentally misconfigure app settings. With Managed App Config, users cannot change specific predetermined settings, reducing potential issues.
Feature Restrictions: If there's a specific feature within an app that an organization doesn't want their users to access (perhaps because it's not relevant or poses a distraction), they can deactivate it using Managed App Config.
Licensing and Authentication: Apps requiring specific licensing or authentication details can be centrally managed and pushed to all devices, ensuring all apps are correctly licensed and authenticated.
Custom User Experiences: For educational settings or specialized work scenarios, Managed App Config can help tailor user experiences by preconfiguring app settings to suit the task.
Debugging and Diagnostics: If an organization is testing or rolling out a new app, they can use Managed App Config to set the app in a diagnostic mode, collect logs, or adjust settings for testing.
Managed App Config is a powerful tool that allows greater control over your Apple device fleet. If you haven't seen Managed App Configuration yet, be sure to check it out in your Addigy product today!