Why MSPs Need Multi-Tenant Capabilities to Scale Profit
If you've worked for managed service providers (MSPs) or if you run an MSP today, you know you can't scale your services without reliable tools that help you keep your clients' devices organized.
We designed Addigy's Apple device management solution with multi-tenant capabilities that allow MSP consultants all the benefits of to take advantage of all the benefits of a mobile device management solution and the ability to quickly access managed devices or sweep for major security issues across device groups. Here's how these multi-tenant capabilities can help you scale.
---
Improve Your Staff's Efficiency with Multi-tenant capabilities to Boost SLAs
Remember when consultants used to schedule all visits on-site and weeks in advance? They'd drive out, provide technical support to any machines or servers on premises, and then they'd depart. Services would end until their next visit.
While these days are gone, there's still ground to be made up in staff efficiencies. Managed service providers that don't operate off of an Apple device management platform with multi-tenant capabilities have to log in and out of client accounts on multiple platforms all day. Managing these passwords and context switching between tabs can be a major source of lost time and lost concentration.
With Addigy, your consultants can respond quickly to system alerts or client questions without logging in or out – Addigy's single pane of glass solution gives service providers the visibility and access they need to manage devices for all of their clients in one location.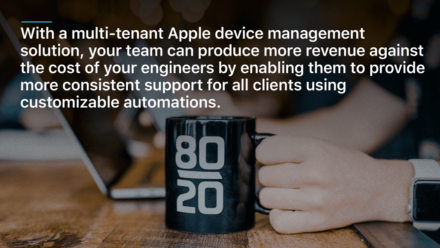 Produce More Revenue More Consistently with the Help of Automations
With a multi-tenant Apple device management solution, your team can produce more revenue against the cost of your engineers by enabling them to provide more consistent support for all clients using customizable automations.
Our real-time MDM solution provides a proactive presence that can support background activity, including remote monitoring management, around the clock without client attention.
You can improve your bottom line by giving the consultants who manage devices remotely the tools they need to run push critical updates, monitor security risks, and run custom scripts to provide custom solutions simultaneously for every client.
The right tools also make it easy to manage Apple devices, even for consultants who primarily support Windows-based client accounts.
Expand Your Client Base without Compromising on Customer Service
To scale an excellent customer experience, managed service providers need to have the ability to work efficiently while continuing to provide the highest level of customer service. For managed service providers, it's difficult to scale a system that relies on multiple platforms with different workflows for every client that require assiduous documentation and upkeep.
Within Addigy, you can group devices within each client base and manage policies for individual groups or devices:
Apply best practices across your entire client base more easily.

Provide more consistent, quality customer support.

Streamline remote monitoring management with reliable alerts.
The ability to manage multiple client accounts through one platform doesn't just centralize consultant tasks within the four borders of one screen – it creates a cloud-based locus from which your team can manage Apple devices remotely from wherever they can securely log in.
These capabilities help MSPs work more efficiently, even as their client base grows.
A Best-in-Class, Single Pane of Glass Solution for Multiple Tenants
Whether you're a managed service provider that supports ten clients or 100, chances are you're seeing Apple devices enter your clients' organizations, and it's paramount to your own operational success that you support these endpoints at the same high level as you would any Windows device.
To do this well and in a way that scales, you need to have a solution that's built for Apple devices and that helps your consultants stay organized. But a single pane of glass Apple device management solution can't deliver a great user experience if that solution doesn't support multiple tenants. 
With Addigy's multi-tenant Apple device management platform, you don't have to choose between best-in-class and single pane of glass.