How Many Apple Devices Are Flying Under Your Radar? 3 Reasons Why Now Is the Time to Bring Them to Light
Whether you're an in-house IT administrator or a managed service provider (MSP), you probably know the Windows environment like the back of your hand. But when it comes to handling Apple devices, you may feel like you're in uncharted waters.
You're not alone. In fact, we see this fairly often. Many organizations and service providers struggle to provide proper Apple device support for their employees and clients.
If you're currently on the fence about Apple device management and unsure where to start, read on to learn why now is the time to bring the iPhones, MacBooks, and other Apple devices in your organization into full view.
Reason 1: More People Than Ever Use Apple Devices for Work
For the past two decades, IT departments and MSPs have focused largely on Windows device management for the simple reason that businesses primarily used Windows devices. Apple was generally considered a consumer brand that wasn't a major player in the workplace.
But that's changed. Today, more than 55 percent of businesses permit macOS devices for their BYOD programs, and an estimated 79 percent of all mobile business activity happens on iOS devices.
What's more, millennials and Gen-Zers strongly prefer Apple products over other brands. As the boundaries between work life and home life erode, more and more IT admins and MSPs can expect to see these devices used for work purposes – even when they're not explicitly permitted in a BYOD policy.
And then there's the C-suite. Executives have long loved and insisted on using Apple devices, forcing their companies to carve out exceptions to rules that applied to other employees.
In other words, Apple is in the workplace to stay.
But many organizations still leave these devices unmanaged. Why? For three main reasons:
They don't understand Apple devices and their operating systems.
They don't have enough time to set up new systems.
They lack awareness about reliable Apple device management solutions.
Right now is the best time to start uncovering hidden Apple devices. Without Apple device support, IT departments put their company's data and employees in a precarious situation. And MSPs that aren't able to manage Apple devices for customers will miss out on major business opportunities moving forward.
Reason 2: Unmanaged Devices Are a Data Breach Waiting to Happen
Any unmanaged device introduces risk to your organization. Especially nowadays when more people are working remotely than ever before, you must be able protect your employees' and clients' devices wherever they are.
Without having a clear view of all the Apple devices in your organization, you won't know how many devices contain or have access to critical company information. You also can't respond effectively when devices get lost or stolen.
Another key consideration: the era of macOS devices being less susceptible to viruses and malware is over. Apple endpoints saw twice as many cybersecurity threats as Windows endpoints in 2019. The number of daily cyber attacks has increased by 400 percent in 2020 as well, which means you need a tool that can monitor and secure devices at all times.
Finally, Apple device features like Airdrop and iCloud are designed to help people collaborate more easily. That can be a boon for business, especially in the era of remote work, but it can also cause data leaks. An Apple MDM solution allows you to control these and other device features to ensure that confidential information doesn't end up in the wrong places.
Reason 3: A Better Apple MDM Solution Now Exists
Maybe you've considered dipping your toes into the Apple universe in the past, but weren't able to find a satisfactory solution.
Enter Addigy, an Apple device management solution with all the functionality and sophistication you've grown accustomed to when managing Windows devices, including…
Addigy users don't have to be Apple experts. We include premade scripts, device facts, and easy-to-understand commands that allow you to manage all your devices with just a few clicks.
The best part is, because we offer a cloud-based SaaS solution, your company saves time, money, and effort no matter how many devices are under your purview.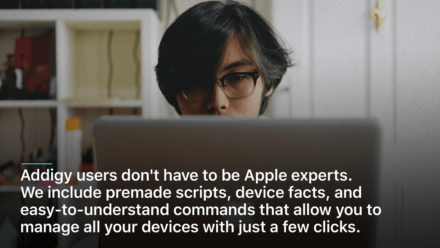 A Team and Community that Has Your Back
Enterprises and MSPs choose Addigy for a variety of reasons, but they often stay because of the Addigy community. We're a group of people who are passionate about what we do, and we help service professionals of all levels get the answers and support they need to manage their Apple devices.
Our employees and customers are always collaborating to make Addigy better for everyone who uses it. To learn more about what Addigy can do for your business, contact our team.
If you want to experience the power of Addigy for yourself, Demo Addigy Now